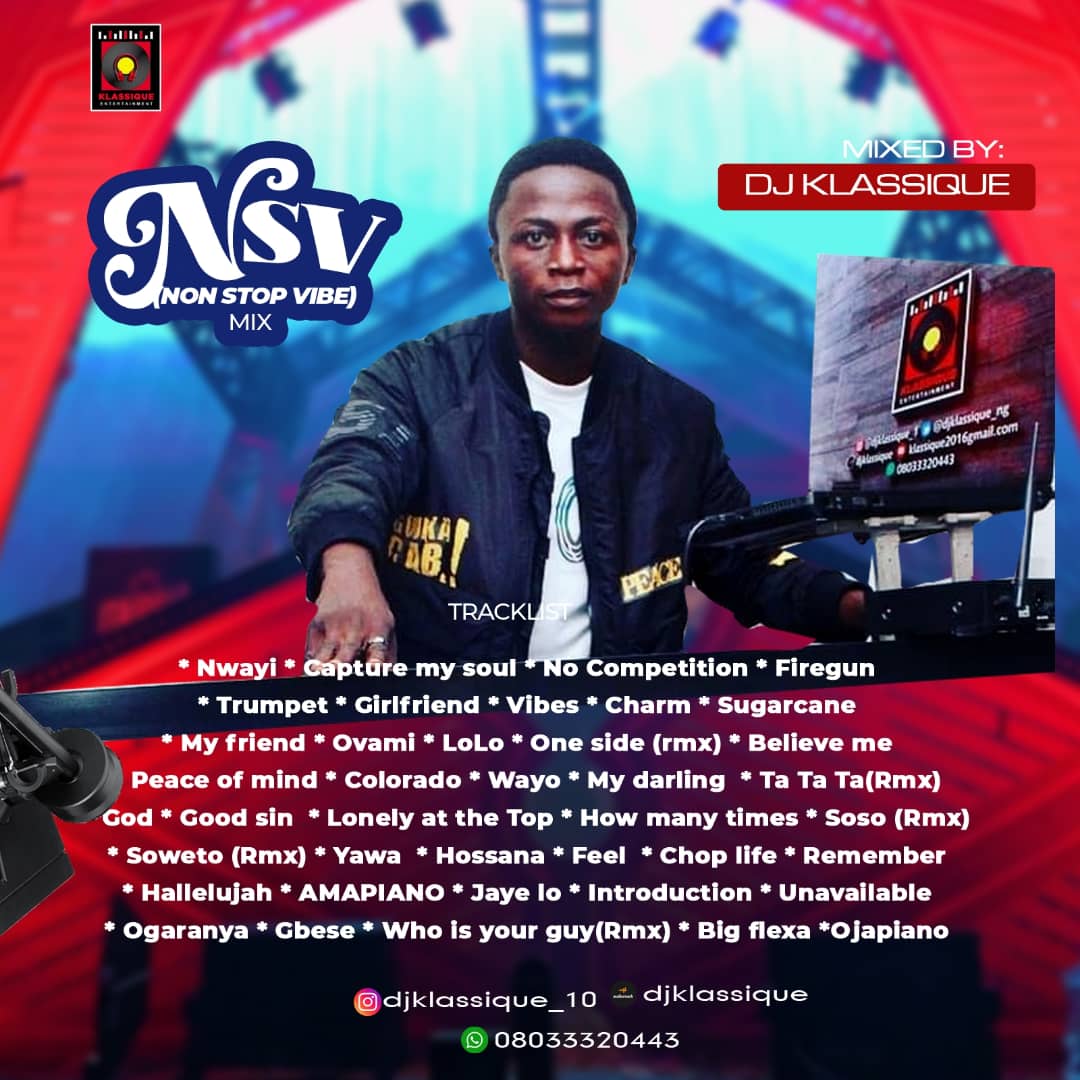 Mixtape: DJ Klassique – NSV (Non Stop Vibe) Mp3 Download
Your favourite Disc Jockey DJ Klassique is out with the release of a new mix he titles NSV (Non Stop Vibe). Just as the name implies the mixtape contains latest and still trending songs well mixed just for your listening pleasure this new month.
Download and listen to the mix below and remember to share your thoughts on the comment section of the site.
DOWNLOAD MIX | AUDIOMACK STREAM
Tracklisting
* Nwayi
* Capture my soul
* No Competition
* Firegun
* Trumpet
* Girlfriend
* Vibes
* Charm
* Sugarcane
* My friend
* Ovami
* LoLo
* One side (rmx)
* Believe me
* Peace of mind
* Colorado
* Wayo
* My darling
* Ta Ta Ta(Rmx)
* God
* Good sin
* Lonely at the Top
* How many times
* Soso (Rmx)
* Soweto (Rmx)
* Yawa
* Hossana
* Feel
* Chop life
* Remember
* Hallelujah
* AMAPIANO
* Jaye lo
* Introduction
* Unavailable
* Ogaranya
* Gbese
* Who is your guy(Rmx)
* Big flexa
* Ojapiano
DOWNLOAD MIX | AUDIOMACK STREAM

Promote your Song/Video/Product Online, Call/Whatsapp CONTACT US TODAY